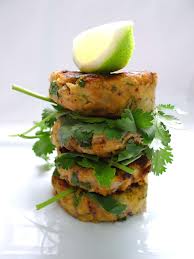 Skin boosting salmon burgers
Salmon is a great source of omegas.  Omegas help nourish your skin from within providing a hydrated and glowing complexion.  This recipe is a great healthy alternative for dinner that will help boost your skin.  Enjoy!
1 lb. salmon, skinned
2 Tbs. drained pickled ginger
1/2 small red onion, roughly chopped
1/3 c. fresh coriander
2 tsp. soy sauce
2 tsp. sesame oil
1/2 tsp. coarse smoked sea salt (or regular sea salt)
1/4 tsp. freshly ground black pepper
Instructions
Place the bowl and blade of a food processor into the freezer along with the salmon for about 10 minutes.  This prevents the salmon from turning to mush when put through the food processor and creates lovely chunky burgers.
After 10 minutes, add the salmon to the bowl of the food processor and pulse, it should be minced, but not so much that it is a paste. Do this in two batches if your processor is small – but do it quickly so everything stays cold. Transfer the salmon to a bowl.
Place the remaining ingredients for the salmon burgers into the food processor and pulse until minced. Scrape everything into the bowl with the salmon and mix thoroughly.
Form the mixture into 4 even burgers. Refrigerate for as long as possible before cooking.  This will really accentuate the flavours.  If you are tight for time cook straight away, they will still be delicious.
Heat grill pan, use a small amount of coconut oil and cook for approximately 6-9 minutes turning halfway through until both sides are browned.
Serve with sweet chilli sauce or your favourite dip and a fresh salad.
For more recipe ideas go to:  http://goop.com/recipes/