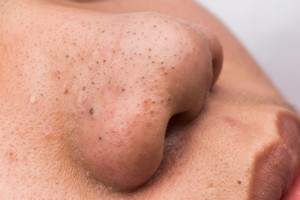 Blackheads and congestion are two things I hear consistently as concerns in skin consultations. Whilst it is impossible to permanently remove blackheads, there is plenty you can do to make them less obvious and also make your skin less prone to congesting.
For anyone lucky enough to have never seen a blackhead on their own skin, lets start with what they are. Blackheads are clogged pores containing oil/sebum and dead skin cells that have oxidized on the surface of the skin giving that characteristic black appearance. They are completely harmless but nonetheless seem to drive people crazy!
What can you do?
There are many products on the market claiming to clear skin of blackheads but they often fall short of the mark. If you have an oily or acne skin type you will be more prone to congestion appearing so always bare in mind that products are a maintenance rather than a cure.
Choose acids as part of your skincare routine. My favourite for blackheads is definitely salicylic acid but many people also use glycolic acid effectively here too. Use a cleanser all over if you are an oily skin type followed by a targeted product to congested areas. If you dont suffer with oil all over choose an acid toner or pad application that you can target treat with as required.
Retinol is also a great ingredient to help prevent congestion and it stops the build up of dead skin cells and reduces over production of sebum.
Have a professional treatment – facials and peels are great ways to deep clean skin giving a cleaner base for you to maintain.
What to avoid
Avoid cleansers and products containing Mineral oil/ Paraffin Liquidium.
Moisturisers and products Isopropyl Myristrate
Avoid greasy sunscreeens and make sure your spf is oil free if you get a lot of blackheads