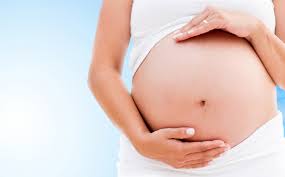 There are so many changes going on in a woman's body during pregnancy that its no wonder that most pregnant women will also notice changes to their skin. For the lucky few it can be the infamous healthy glow we often hear people mention in the movies. I'm yet to hear any of my clients talk about their glowing skin. Here are the concerns I treat most during pregnancy and tips to help treat.
Tired /Dull complexion: Many women can feel pretty exhausted during the first and third trimester of pregnancy. This can often lead to dull skin.
First tip is to start from the inside out nourishing and hydrating your body. Water is essential for so many functions in the skin, keeping hydrated will go a huge way to maintaining a healthy complexion. Stock up on skin boosting ingredients in your diet such as avocado and flax seed and aim to reduce your sugar intake. Continue to exfoliate but don't overdo it, your skin may be a little more sensitive so less scrubbing and more gentle exfoliation. An enzyme or grain free exfoliant is a great addition at this time. Exfoliation can be followed once weekly by a treatment mask, choose brightening ingredients such as kaolin or vitamin c to boost tired skin.
Itchy dry skin. Like every other skin change during pregnancy this is often blamed on higher hormone levels which can cause the skin to become more sensitive and compromised.
Its important to choose products that are not overly perfumed (preferably perfume free) as this can increase skin reactions. Avoid soaps which can also have a drying effect. Choose a natural cleansing bar for body or a shower gel minus the nasties. Apply a light body lotion or oil formulated for pregnant women. This will soothe the symptoms of itchy skin and help to prevent stretch marks. My preference is for organic or basic oils for body. Organic coconut oil is excellent, apricot oil or sweet almond oil.
Oily skin / breakouts: A common side effect of pregnancy is breakouts or congested skin. Hormone changes can cause your skin to increase oil production which leads to dreaded breakouts.
Make sure you are cleansing your skin twice daily, its important to keep this routine to prevent oil build up. You may need to swap to a gel or lighter cleanser if you are using a cream. Don't overly moisturise your facial skin. If oil is a problem choose light oil free products. An oil free sunscreen is ideal during the day and choose a light oil free serum at night.
Pigmentation: Many women experience changes in pigmentation during pregnancy called chloasma. Again this is down to hormone fluctuations. For many this will disappear within a few months of the birth but for some it can hang around. Because this is a higher risk during pregnancy I treat everyone with a view to doing as much as possible to prevent it from appearing. Pigmentation can be difficult to treat so the more we can do to prevent the better.
I always recommend products which help to limit over production of pigment in the skin during pregnancy. Lightening agents or vitamin C are great ingredients to add into your programme. Its also very important to protect skin from the UV damage. This needs to be done every day. Choose a zinc or mineral based sunscreen which will help to block heat or damage from UV rays from penetrating your skin.
Recommended Product: Eminence Apricot Body oil €38.00